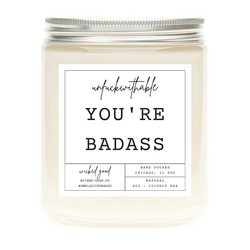 Fulfilled by our friends at Wicked Good Perfume
A favorite candle, back in stock! Light this baby up for a gentle reminder: you're badass. We couldn't agree more. 

About Wicked Good Candles
With the belief that fragrance is a conversation piece, Wicked Good designs candles to remind us of stories worth sharing. Inspired by personal recollections and cultural trends, their candles are crafted from coconut-soy wax with evocative scents and playfully modern packaging — each hand-poured in the USA.
For the best burn experience, keep the following in mind:
The first time you light your candle, allow it to burn until the wax pool melts all the way to the edge; for a larger candle, this may take several hours. Wax has "memory," so if it is extinguished with a partial pool, that will prevent a full, even pool from forming in the future.
Trim your wick each time you light the candle, removing any "bloom" from the previous burn. We recommend lighting a wick that is 1/4-1/2" in length.
Ensure that your candle is placed on a heat-safe surface.
Do not allow wick trimmings, dust, or other materials to accumulate in the wax pool.
To ensure safety and longevity, be sure to check the bottom of your candle for additional instructions, including details on when to discontinue use.
50-hour burn time
Coconut soy wax; cotton wick
Glass vessel, 7.75 oz., 3.75"H, 2.75" diameter
Hand-poured in USA
SHIPPING
We ship from three warehouses: San Diego, Las Vegas and China. Your  location will determine what warehouse we ship your order from.
Orders to the US: All US orders will ship from San Diego or Las Vegas if the item is in stock. Shipping on these orders should be around 4 days. We usually ship Mon, Weds and Fri. (This has been fluctuating a bit lately due to COVID.) If the item is not in stock in the US warehouses, then it will ship from China. Shipping on orders from China to the US usually takes about 20-25 days.
Orders to Other Countries: All orders to countries outside the US ship from China. Shipping on these orders vary by country and can take 8-25 days. 
Each product page will show inventory availability at each warehouse. Here is an example of what that looks like.
Inventory:
International Warehouse:

 

available

US Warehouse:

 

5 or less left
If you need your order by a specific date please put that in the order notes and we can ship it out asap or email you if we're not going to be able to get it to you in time. 
*COVID UPDATE 
Most shipping times seem to have returned to normal on orders shipping out now. If your order shipped in Feb, March or early April you might experience some delays due to shipping carrier delays. 
*HOLIDAYS
Near the holidays please expect possible shipping delays. We will do our best to accommodate you and get orders out as fast as possible. If you're ordering gifts and need them by a certain date please leave a note in your order on when you need them by. We will ship them immediately if we can meet that date, or send you a message if we can not.
*LOST PACKAGES
As much as we try to avoid it, we do not have control over logistics and some parcels may end up getting lost. If some of the products you ordered hasn't arrived within 90 days after you placed your order, we'll consider it lost & we'll proceed reshipping your order or issuing a refund.
RETURNS
We accept returns within 15 days of your package being delivered. If your order was delivered in a few packages then the 15 days starts on the delivery date of your last package. To be eligible for a return, your item must be unworn and in the same condition that you received it. You may return all items except for masks, swimwear and customized items.
For orders WITHIN THE US, click here to start a return.
For orders OUTSIDE of the US, kindly email hey@marigoldshadows.com to initiate a return. Our customer care team will get back to you within 24 hours to assist you.